Secure Mobile Productivity?
Join us to see how it works!   
Want to know how to benefit from turning to Mobile First Enterprise? Watch "Secure Mobile Productivity with WorksPad" webinar! The increase of mobile productivity doesn't mean speaking or tapping faster. It doesn't also mean making more phone calls, rather than having face-to-face meetings with your partners or customers. Enterprise mobility goes far beyond using consumer capabilities of smartphones/tablets, and you can see this in action at our webinar. Watch it to discover how you can convert your mobile device into enterprise mobile workplace!

 

Join us for a WorksPad webinar
on June 1, 2016, at 11:00 AM CET!
WorksPad brings familiar
"PC world" user interface
to mobile devices.
 

ENTERPRISE MOBILITY DIGEST 
Be the first in productivity!
How to create enterprise apps employees want to use?
What will help you to stay ahead of the top 2016 data protection trends?
How communications tools enhance productivity?
Check our Enterprise Mobility Digest to find the answers!
---
International Partner Conference in Visby 2016
HansaWorld organized their International Partner Conference in Visby, Gotland, Sweden from April 20 until April 23, 2016
The Conference included topics like the latest results of the company and also HansaWorld strategy towards Standard ERP and Standard Books, Saas, HansaWorld new sales and marketing strategy. 
HansaWorld's International Partners had also the opportunity to introduce themselves to each other as well as to present their different implemented solutions and success stories for their region.
---
Standard ERP on iTunes and Google Play Store
Standard ERP for mobile devices are now available for download from iTunes and Google Play Store.
The downloaded client will connect to an existing Standard ERP server running on version of 8.0 (2015-01-26 onwards).
---
WorksPad for Service Providers
Now availible!
WorksPad for Service Providers is intended for service providers who have joined the Microsoft COSN (Cloud OS Network) initiative to offer world-class cloud services out of data centers based on Microsoft products (Exchange, SharePoint, and others).

With WorksPad for Service Providers, service providers can offer a new value-added service to the existing customers, launch a unique package that includes an enterprise-class mail solution, file storage, Office applications in one mobile app for iOS and Android devices, provide an access to cloud services as well as to enterprise resources deployed on customer's corporate  infrastructure to the customers' mobile employees.

Join us for a webinar
on March 29, 2016, at 11:00 AM CET!
WorksPad Edition for MobileIron
Enterprise data security, increased productivity, all-in-one functionality, integrated workplace - everything you can have with WorksPad for MobileIron. Why are MDM & MAM needed for WorksPad users? How to use WorksPad for MobileIron? Get the answers.
Enterprise mobility highlights
Get ready for the best stories from the fast growing world of IT & Mobile. How much money does enterprise mobility save for a company? Why Desktop UX Still Has Something To Teach Mobile? What mobile security issues are facing businesses in 2016? How to use design thinking to enable enterprise mobility? Check the Enterprise Mobility digest.
---
BMC BALTICS at RIGA COMM Business Innovation Conference 2015
In October 2015 BMC Baltics participated in business innovation exhibition RIGA COMM representing Hansaworld  ERP and WorksPad business solutions. A fantastic atmosphere and a lot of interesting appointments gave the inspiration for future work.
---
HansaWorld honored at the 2015 Stevie Awards 
HansaWorld's flagship product Standard ERP has been awarded the Bronze Stevie in the Software - Mobile Applications and Solutions category at the Best New Product or Service of the Year, Stevie awards.
The judges were impressed with Standard ERP's user friendliness across all major mobile operating systems. Comments from the judges:
"Standard ERP works on all operating systems (either or mix of), which is a boon to clients; Excellent backing and archiving capabilities evidenced."
"this level of ERP is so outstanding."
"A very good ERP solution for mobile development"
"…Making ERP solution available to use through different platforms…will give users more flexibility, time saving, and friendly user experience to track all needed analysis and information anywhere, any time"
---
KuppingerCole. Executive View.
KuppingerCole, global Analyst Company headquartered in Europe focusing on Information Security and Identity and Access Management (IAM) created special report Executive View: MobilityLab WorksPad – 71402. KuppingerCole supports IT professionals with outstanding expertise in defining IT strategies and in relevant decision-making processes. Experienced specialists analyzed integrated enterprise mobile workplace.


WorksPad in the list "BEST 2015 SOFT" – "Innovations and Achievements"
VDC Research "2016 Predictions"
VDC research suggests that the "workforce is increasingly mobile – estimated at approximately one third of the workforce or 1.4 billion workers. 2016 will be pivotal year for the technology industry writ large. Mobile and cloud computing will continue to disrupt how IT services are provisioned, as both personal and corporate computing continues to migrate to mobile platforms".
 
5 TED Talks to Get You Through a Rough Day of Meetings
Everyone has been there. You come into work, check your calendar, and see that your day is packed full of meetings. So what do you do? Leslie Clavin, a valued contributor to Business 2 Community, found a coping method that might seem unusual – TED Talks. These short, compelling talks, no longer than 18 minutes, had a key takeaway to help you get through that rough day of meetings.
---
Mastering mobile ERP challenges
HansaWorld has been recently featured in an article on a South African technology news portal ITWeb. Here is is what Viesturs Zalaiskalns, Channel Manager at HansaWorld SA had to say on mobile ERP challenges in South Africa:
"In SA, few ERP vendors can confidently say that their mobile apps will satisfy the needs of their customers. Most will only provide mobile reporting functionality, rather than the ability to input or manipulate data."
Read the full article here.
---
Secure Mobility for Mobile Productivity 
WorksPad  is an integrated enterprise mobile workplace for iOS and Android. Secure corporate files access, editing and sync. Email, calendar, contacts.  Familiar "PC like" user experience. Unique Multi-screen user interface to handle multiple documents, messages and appointments. Direct File and Screen Sharing between Android, iOS and Win.
WorksPad is integrated with all major enterprise mobility ecosystems – special editions for MobileIron, Symantec, Good Technology and Citrix.
WorksPad is a secure solution. No proprietary encryption, no vendor provided public clouds, and VeraCode security assurance testing on Level 4 – i.e. business critical applications level.

Register for the webinar to get the benefits of WorksPad solution!
 

Join us for a free webinar! 
April 13, 2016
11:00 AM BST


Program:
- Ways of mobile productivityincreasing;
- Enterprise mobility in action 
- WorksPad Live Demo;  advantages of mobile workplace.
---
HansaWorld at Sweden's leading ERP Exhibition
HansaWorld and our partner Avone IT attended Forum 4 IT in Stockholm on monday. Held in various locations throughout Sweden and Norway, this is the industry leading software exhibition which dates back to 2004. Forum ERP & HR introduces both suppliers and customers to discuss and evaluate modern solutions for ERP, HR and payroll systems.

HansaWorld met with current and future customers and gave two presentations on the Cloud and Standard ERP. We would like to thank all visitors for a wonderful day.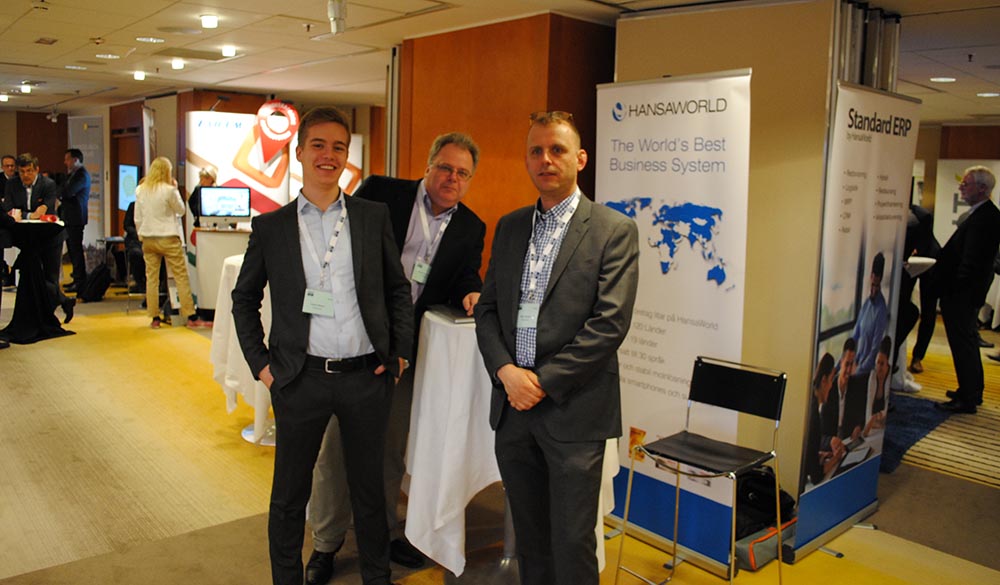 ---
Standard Accounts on store shelves in Finland
HansaWorld is shipping boxed versions of Standard Accounts and Standard Invoicing to stores all across Finland. With the help of our partner Bluebaum, we now offer a physical product which is in addition to the online versions available for download from www.standard-accounts.com

Standard Accounts is an extensive accounting software for small businesses, including Accounts Payable and Receivable as well as bookkeeping. Standard Invoicing is a cloud based invoicing tool for small businesses. Both products are available for all computers, tablets and smartphones and electronic invoicing can be added to both products. More information can be found at www.standard-accounts.com